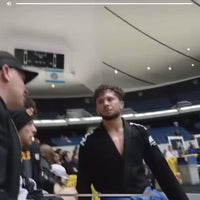 Premium Jiu Jitsu Gis Pre Sale
Our fighting spirit BJJ Gi has been battle-tested at IBJJF worlds and is ready for release. The new and improved black V2 Bjj Gi features additional details and improved pearl weave tech. Cop on presale and save.
The Japanese word toukon is composed of the kanji (read tou) meaning "fight" and (read kon) meaning "spirit; soul" used in martial arts to describe a person that is a fighter by nature.

Perhaps represented best the Japanese proverb "Nana korobi, ya oki" which means "Fall down seven times, stand up eight." Meaning chooses to never give up hope. All embodied in our latest BJJ Gi.
You're guaranteed to find a BJJ Gi that suits your needs and style. Very Ltd release. Shipping starts March 14th-16h.  100% Satisfaction Guarantee | Replace or Refund | Subscribe for 15% off.
Pres sale sizes ship in 2-4 weeks. Stock sizes ship in 3-4 days.
KEY FEATURES:
IBJJF Comliant
Slim Fit - Size up if you are at the top of your size
Size exchanged - If size is stocked we will send a replacement at no extra cost. The customer is responsible for the return shipping of product in 'as new' condition. 
Jacket
Durable medium weight 450 GSM pearl weave
Waist tapered & reinforced edges for a better-formed fit
High-quality embroidery
Sublimated shoulder lining 
Pre-shrunk - Estimated shrinkage 5% if machine dried (not recommended)
Eva Foam collar (dries quicker)
Rounded side slits to reduce the ability to make grips
Form-fitting
Pants
10 oz Ripstop cotton fabric
Triple reinforced stitching across all stress points
Double reinforced knee padding
Custom detailed stretchy drawstring
Soft, custom seam taping
Crotch gusset for better mobility
Nation Athletic Brazilian Jiu Jitsu Bjj Gis
Discover our premium Brazilian Jiu Jitsu Gi. Cut with a tailored fit, quality embroidery, hemmed seems and inner sublimated print. We strive for the best fit possible comparable to Shoyoroll Gi.
Sauce Master Flex
My favorite competition Gi I've ever worn. It gives me European suit vibes as far as the fit. I don't like my Gis too baggy and this color block is subtle yet speaks volumes. Looking forward to testing out my players Gi next in competition 🥷🤘🏾
My new favorite gi🔥🖤
Amazing fit and comfortable material. The gi feels good to roll in . Not too bulky or rough. A great gi for casual rolling as well as competition.
Sexy
Love it 😀, lightweight and comfortable.
I never received my item
I would love to give a review but I never received my order.
Hey Charles, so sorry you haven't received your order! Looking at the tracking, I see it hasn't updated since dropping off to UPS. Unfortunately this usually means they have lost the package. We will reach out to them and see if we can find out what is happening. I will also shoot you an email with some options on how we can make this right.