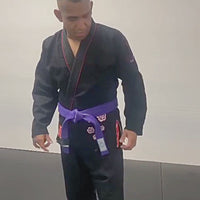 The Cucuy Hunder | Premium Brazilian Jiu Jitsu Gi
Our latest Tex-Mex-inspired design now available as a gi! featuring the legend of El Cucuy, the Mexican version of the enduring "Boogeyman". The 'Cucuy' is particularly stealthy and you must use every ounce of skill and cunning to catch the Cucuy. Set your traps and be ready hunters!
This Gi features beautifully detailed embroidery throughout, loopless pant closure, and a super soft sublimated lining. Not sure what your size is? Don't worry just reach out or take advantage of our $1 exchange coverage for free size exchange shipping.
KEY FEATURES:
Slim fit - if you are at the top of your size we recommend sizing up.
Size exchanged - If the size is stocked we will send a replacement at no extra cost. The customer is responsible for the return shipping of the product in 'as new' condition. 
Jacket
Durable medium weight 450 GSM pearl weave
Waist tapered & reinforced edges for a better-formed fit
High-quality embroidery
Sublimated shoulder lining 
Pre-shrunk - Estimated shrinkage 5% if machine dried (not recommended)
Eva Foam collar (dries quicker)
Form fitting
Pants
10 oz Ripstop cotton fabric
Triple reinforced stitching across all stress points
Double reinforced knee padding
Custom detailed stretchy drawstring
Soft, custom seam taping
Crotch gusset for better mobility
Discover our premium Best BJJ Gis. A tailored fit, quality embroidery, hemmed seems and inner sublimated print. We strive for the best jiu jitsu gis fit possible.
You're guaranteed to find a BJJ Gi that suits your needs and style. 100% Satisfaction Guarantee | Replace or Refund | Take advantage of our 15% subscription discount.
Nation Athletic Brazilian Jiu Jitsu | Bjj Gis
Our Jiu Jitsu gi will fit and feel like it was made just for you. Nation Athletics know that our customers won't settle for just any bjj gi. There is a huge number of BJJ enthusiasts like us who want a gi that has it all, a stylish look, clean design, right fit and comfort. Nation Athletics bjj gis also allow a full range of motion. 
The one true success we have found in making some of the best jiu jitsu gis is Nation Athletics gi, are designed and made by practitioners just like you. We battle test all of our Brazilian Jiu Jitsu Kimono's ("BJJ Gi"). 
This Jiu Jitsu uniform is a lightweight two-piece garment that consists of gusset crotch pants to allow ease of movement and our BJJ gi is generally more durable than any other gi because in BJJ there is constant friction. A Nation Athletic BJJ Brazilian Jiu Jitsu gi is designed to be more form-fitting for a fashion look which also helps it restricts your opponent from being able to grab on to you.
The legend of El Cucuy
This is a very unique Gi wrapped in folklore and tradition. Great fit. Great colors. I say 💯 El Guapo in the world of El Cucuy