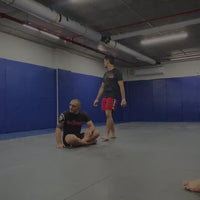 Using the De La Riva to create a bear trap that can be chained to a calf slicer and then back take with EBI champ Jon Palestine. Tons of killer details in this one. Download and level up! 
We charge a nominal fee per download to help cover our athlete's time for supplying each technique download. Members download for free using code NFC_DIGITAL
As a member, you have exclusive access to free digital BJJ content from our competition athletes.

Head over to Jon Calestine's Patreon for full breakdowns!
https://www.patreon.com/JonCalestine