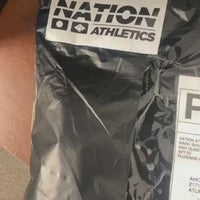 Dark Arts BJJ Rash Guards
KEY FEATURES:

Durable Spandex/Polyester mix
Elasticated waist band to prevent riding up
Lightweight Competition Jiu JItsu Rash guard
Compression material 
Run slim, size up in instance quarantine beer and cookies have destroyed your diet
Durable flatlock 4 needle stitching
CARE INSTRUCTIONS:
Wash on 30 Degrees
Do not machine dry
Presale sizes ship in 3-4 weeks. 
The NoGi Jiu Jitsu Dark Arts runs strong with us. In Kodokan Judo, there are a number of forbidden grappling techniques. These techniques are banned from Judo and BJJ competitions because they are seen as very likely to cause injury to an opponent. In Japanese, these forbidden techniques are known as Kinshi Waza. Nogi Jiu Jitsu just so happens to have a whole art form dedicated to these forbidden techniques...... now go heel hook a white belt today.
Take advantage of our limited-time BJJ Rash guards 10% sign up! Discount applied at checkout.
Discover our premium Brazilian Jiu Jitsu Rash Guards. Cut with a tailored fit and fully sublimated print.  You're guaranteed to find our BJJ Rash Guards will suit your needs and style.  
100% Satisfaction Guarantee | Replace or Refund


My drilling partner was scared to roll with me
as a 32 old 225 pound Manx I felt faster, smarter, stronger, more technical when I wore this rash guard and matching shorts. My opponents wouldn't stop tapping I felt unstoppable. Best kids class I ever attended. Will wear again and highly recommend
Love it!
Very comfortable, and the cut makes a great fit.
BJJ Jiu Jitsu Rash Guard - Dark Arts Jiu Jitsu